Each year our family travels Up North and spends a week in Door County. It's one of those places that looks like no other in Wisconsin. Time slows down, nature is all around you and there are plenty of things to do. Here are some of our favorite family-friendly spots to visit and explore.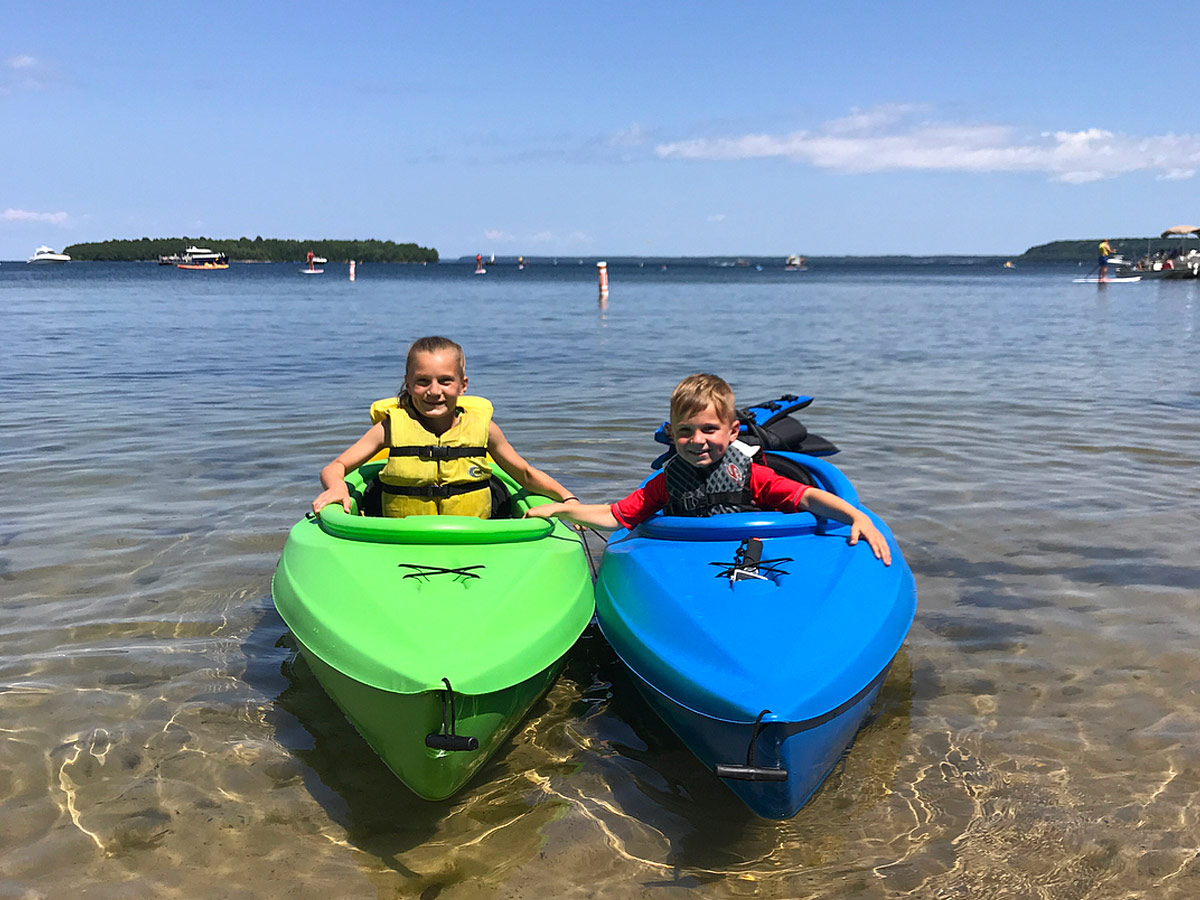 Peninsula State Park – Fish Creek, WI
Wisconsin's second most popular park is packed full of activity all summer long. Peninsula State Park provides extensive trails for both hiking and biking. Kayaking or boating boasts the best views of Eagle Bluff and if you're up to the challenge, you can paddle your way out to a number of islands that surround the park. If you are looking for a more relaxing visit, spend the day swimming at Nicolet Beach or take a tour of Eagle Bluff Lighthouse. We always find new things to explore on and off land when visiting this park.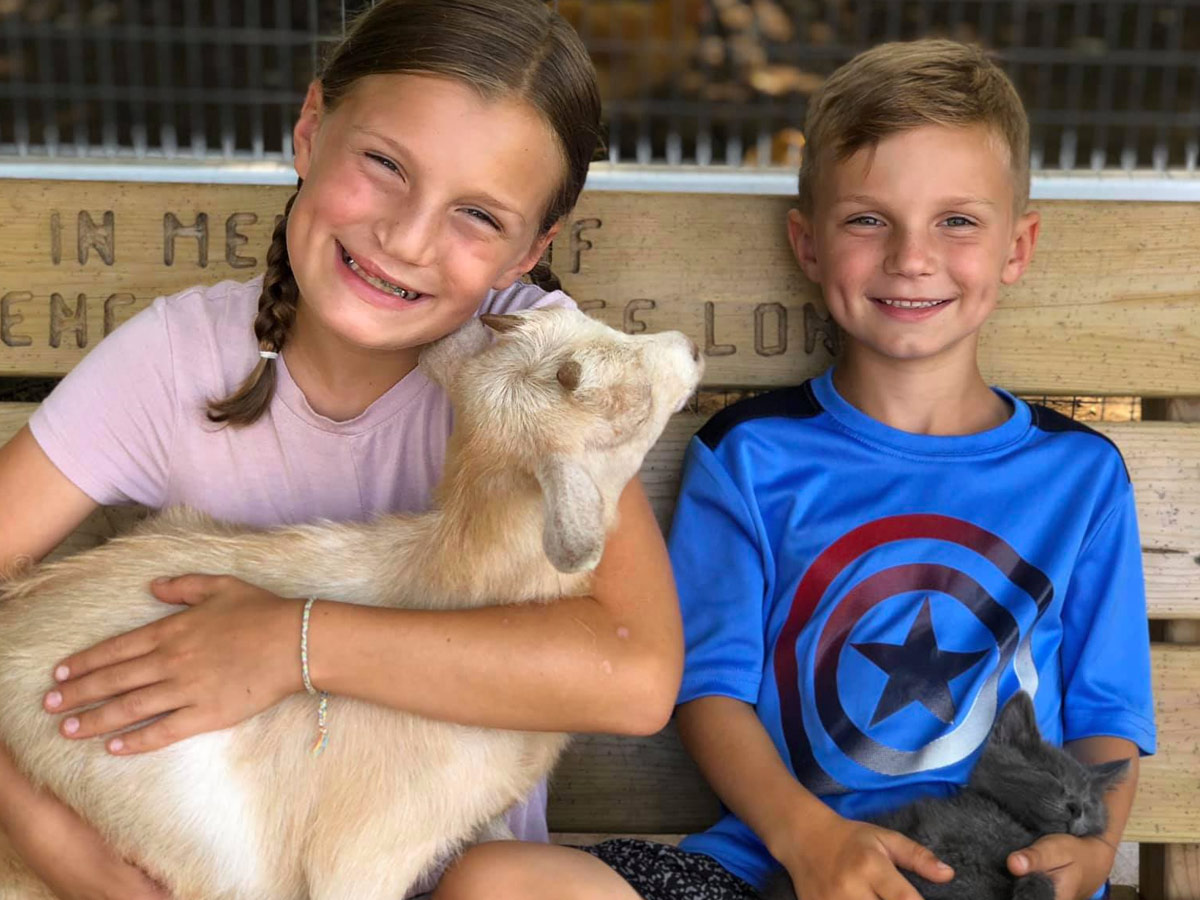 The Farm – Sturgeon Bay
The Farm is a great family friendly activity to do while visiting Door County, Wisconsin. The Farm has been around since 1965 and is located just north of Sturgeon Bay. Visit farm animals in natural surroundings. Bottle feed goat kids, lambs, and piglets. The small quaint setting is great for all ages. If you love to get up close and personal with a ton of friendly animals, this place is a must.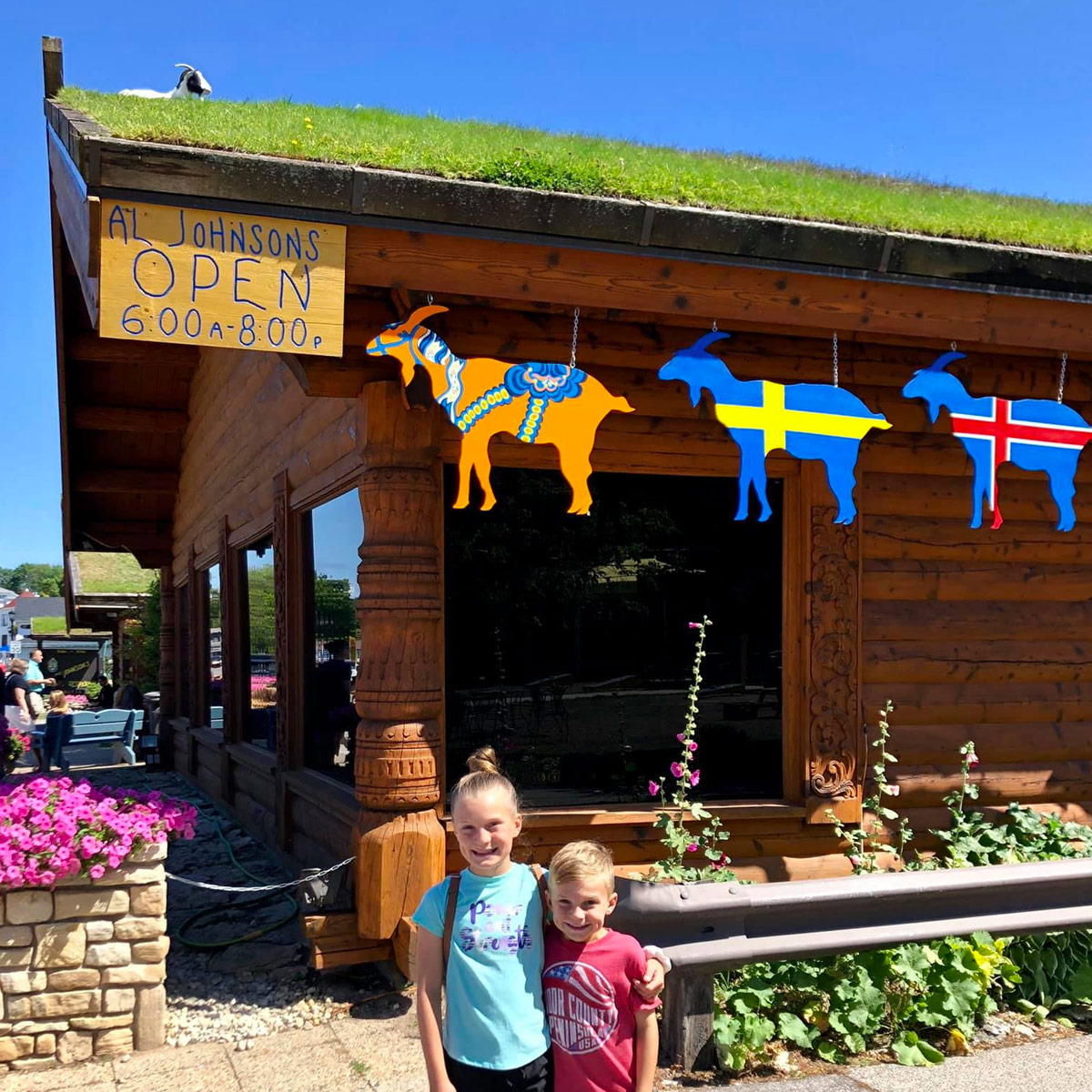 Al Johnson's Swedish Restaurant – Sister Bay
While the wait to get breakfast might be long, this is a must stop in Door County. How often do you get to see goats grazing on a grass roof? The folklore of the Johnson's, the Swedish cuisine and Scandinavian experience are truly unique. They've recently expanded the outdoor Stabbur Beer Garden and installed astroturf for everyone's enjoyment. The outdoor area is dog friendly, hosts plenty of live music and is a great spot to grab a beer and relax.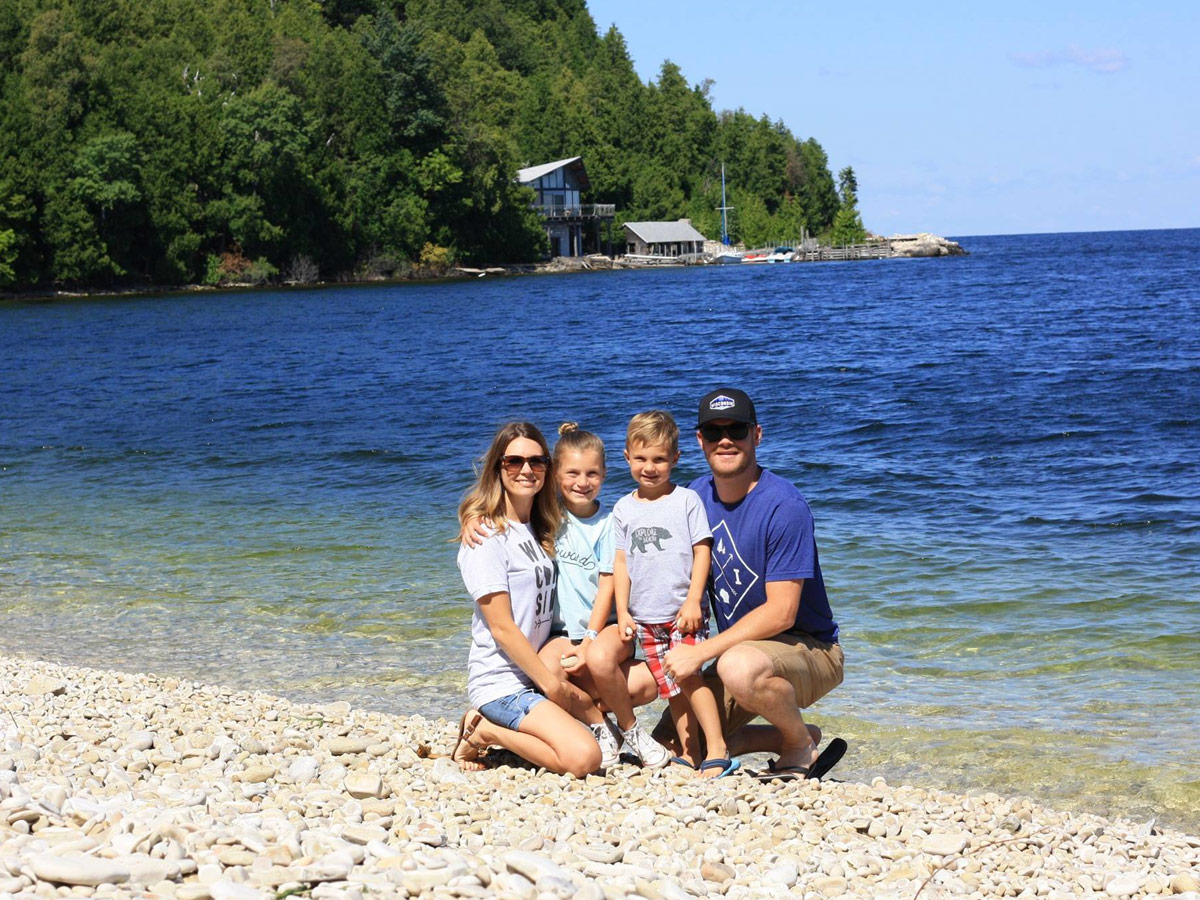 Pebble Beach at Fred & Fuzzy's – Sister Bay
There is no need to travel all the way to Washington Island to find a pebble beach. Fred & Fuzzy's sits in a picturesque bay and has some of the best sunset viewing in all of Door County. Chill bayside while eating comfort grub & one of their signature cherry margaritas. The outdoor patio and live music make this a great spot to hit up just before sunset. The kids can run around on the beach while you enjoy a cocktail. Don't wait to check this place out, rumor has it will be closing after the 2020 season and become a private residence.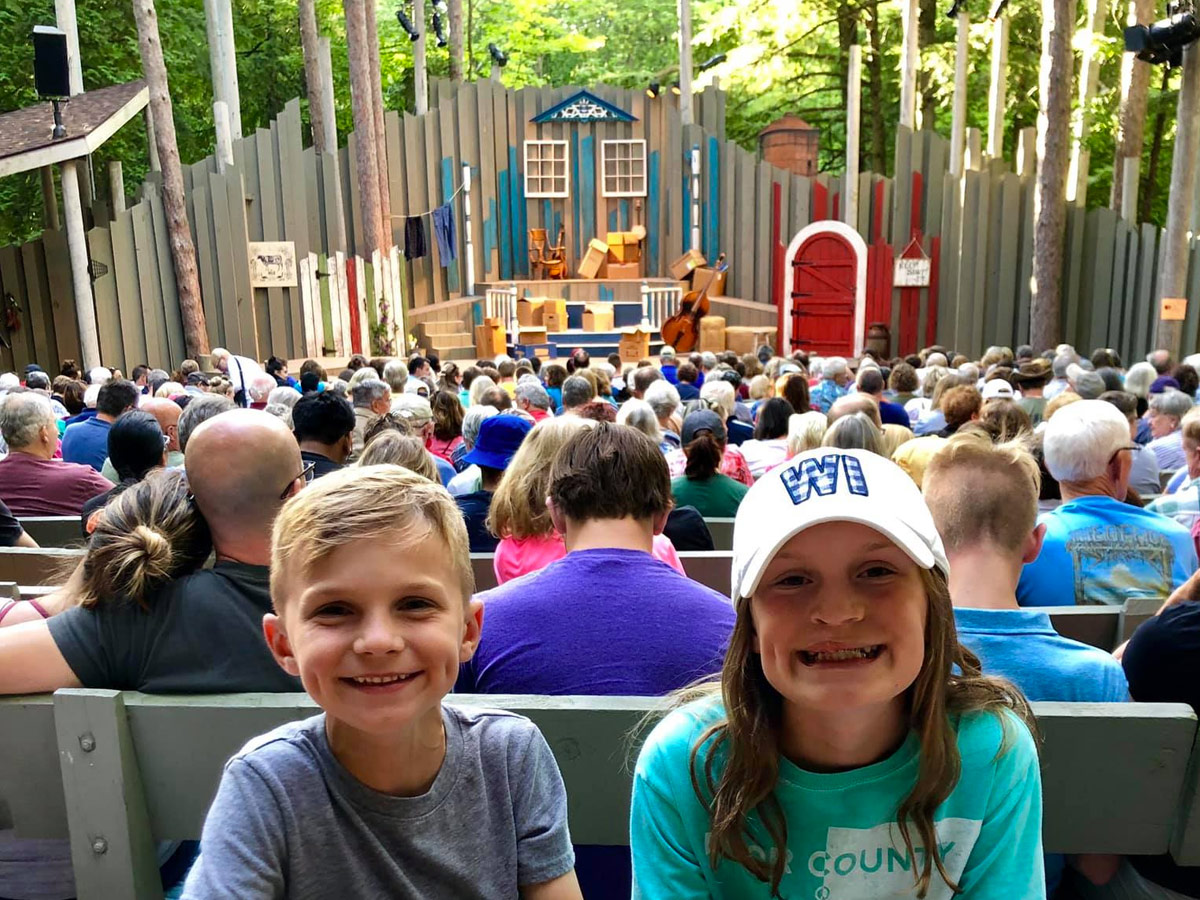 Northern Sky Theater – Located inside Peninsula State Park
There is something nostalgic about outdoor theaters. The sound or nature mixed with the sound of unique musicals. Our family loves musicals and the idea of watching one outside makes in even more special. After each performance there is a bonfire with smores and other live music being played.
The rich history of Door County has been preserved and on display all around the peninsula. It seems like there is never enough time to check out everything and something new every year to explore.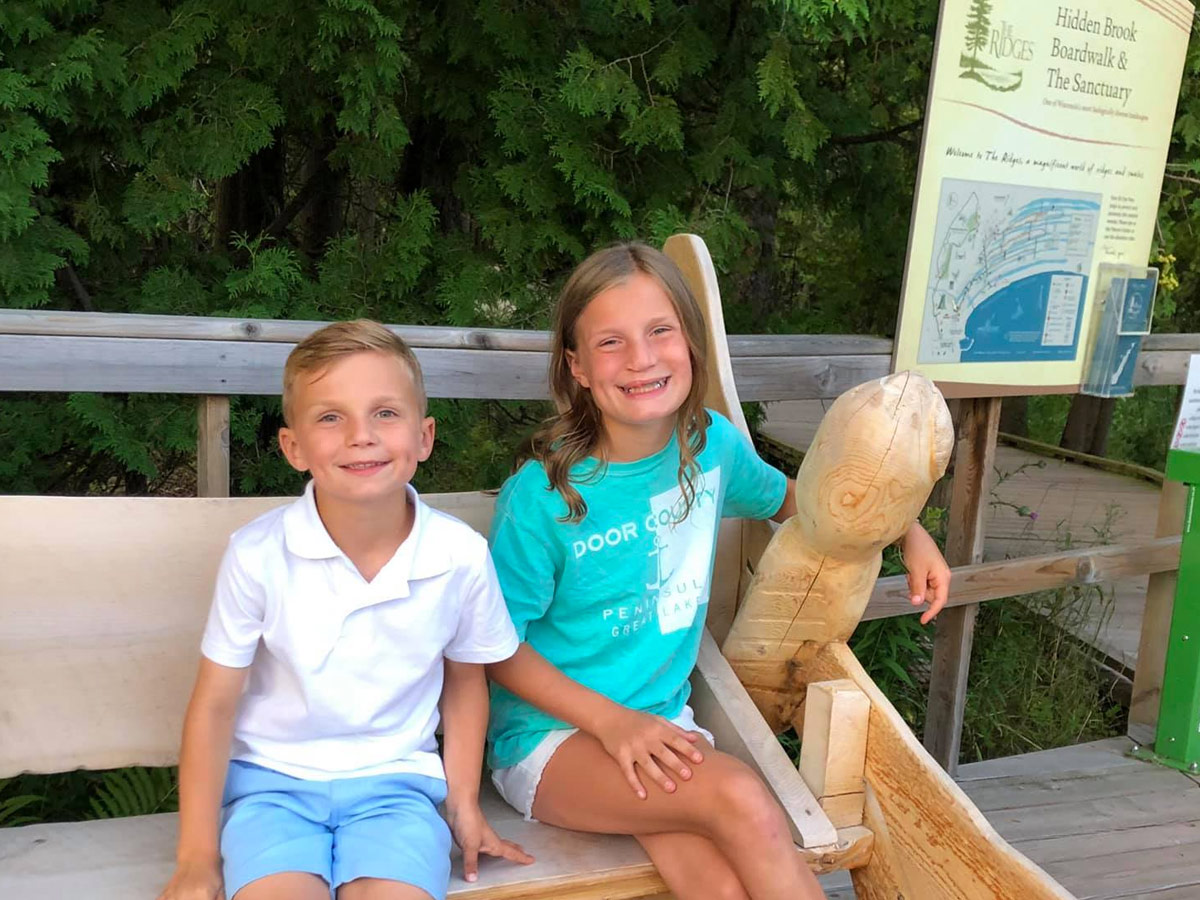 The Ridges Sanctuary – Baileys Harbor
The Sanctuary is named for its distinctive topography – a series of 30 ridges and swales formed by the movement of Lake Michigan over the past 1400 years. There are numerous butterfly gardens and the full (in-person) life cycle of the monarch butterfly is on display. You can literally see them come out of the cocoon right before your eyes. There are numerous boardwalks throughout the nature preserve and a few smaller lighthouses to checkout.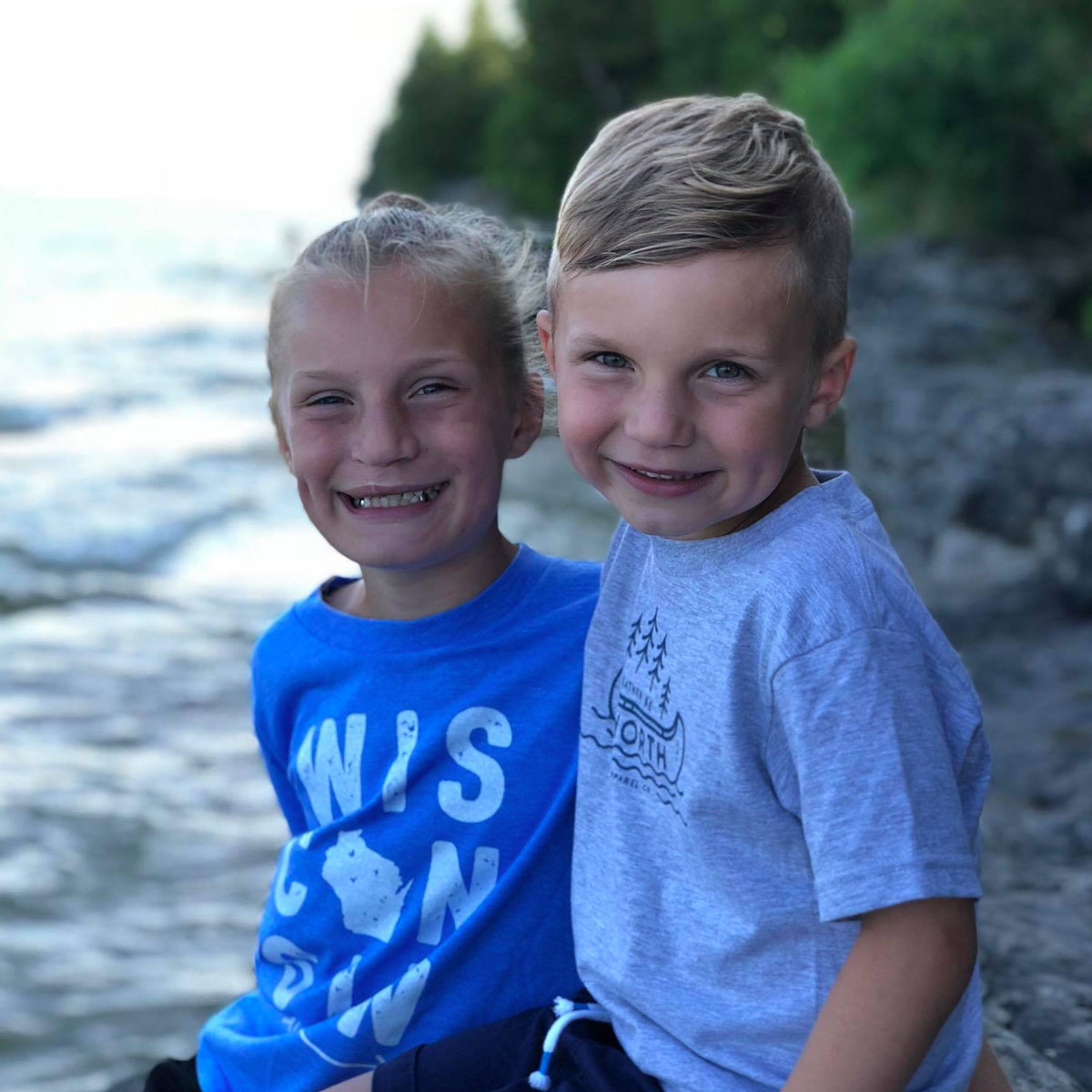 Cave Point County Park – Sturgeon Bay
Cave Point County Park might be the most iconic natural landscape of Door County. The pure beauty of this shoreline is breathtaking every year we stop. The large waves of Lake Michigan splash up against the shores and provide some great photo opportunities. If the weather is right, this is a great spot to kayak out to and explore some of the underwater caves. The cliffs are high in some spots, so make sure you keep the little ones within reach.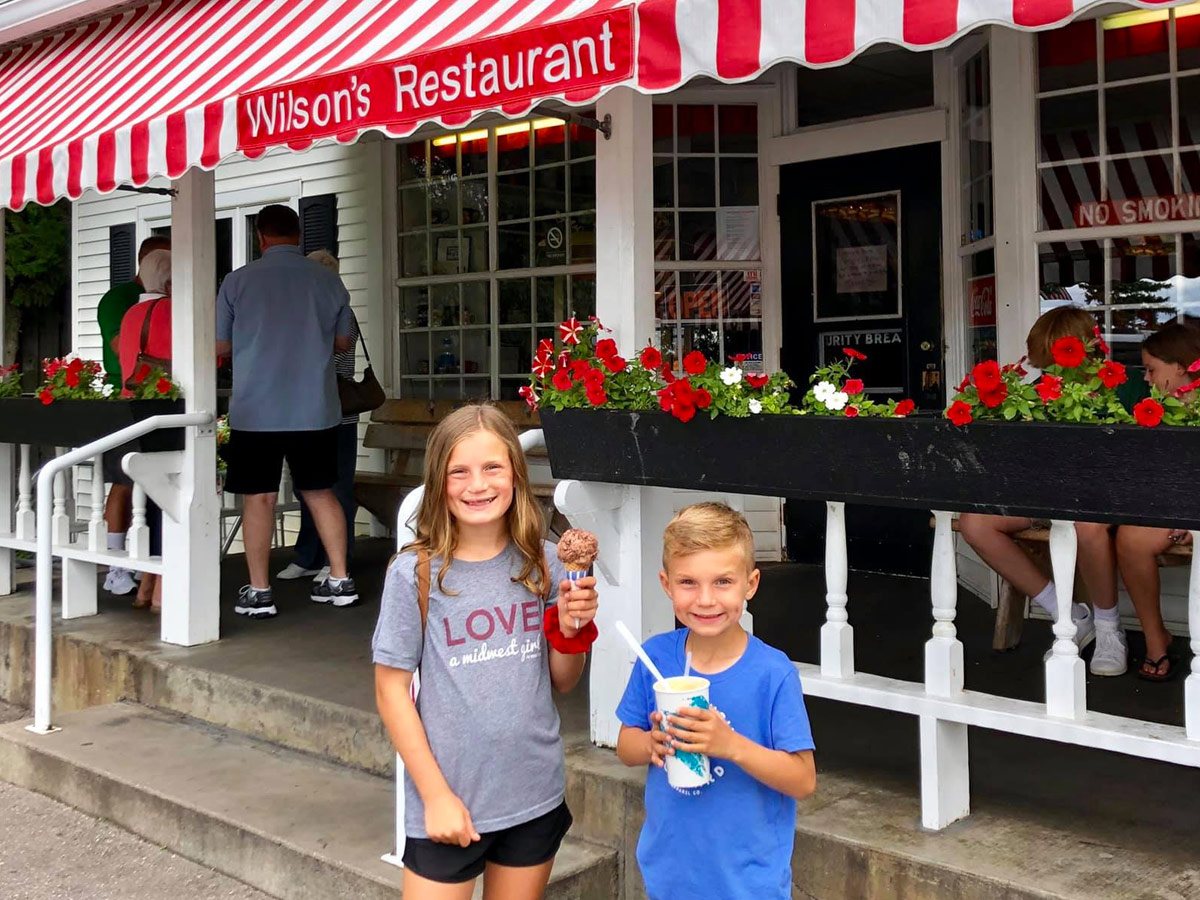 Wilson's Ice Cream Parlor

& Anderson's Dock – Ephraim

Wilson's has been located in the heart of Ephraim since 1906. A classic Door County landmark that possesses the enchantment to take the youngest visitors back in time with its old-fashioned soda fountain and ice cream specialties and home-brewed draft root beer. It's a great pit stop while you're touring the peninsula. When you're finished with your sweets, head up the street to Anderson's Dock to check out the painted barn. You can paint your family's name right on the wall and leave a little piece of your history in Door County.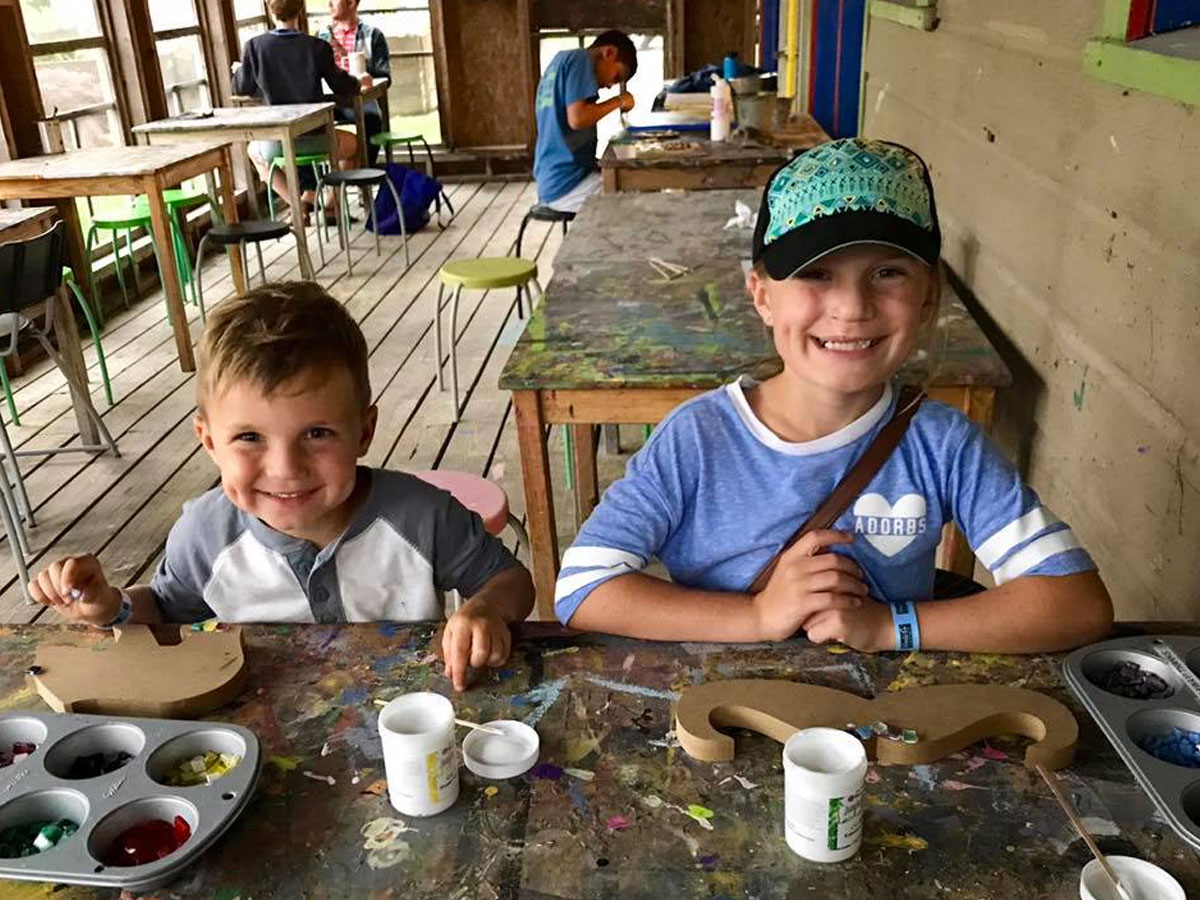 Hands-on Art Studio – Fish Creek
We save this spot for those rainy days and need some inside activities to do. There are tons of art projects for kids to pick and choose from. Paint pottery, canvases and glassware. Weld metal garden art. Fused glass. You get to be the artist for the day. This place is great for the entire family.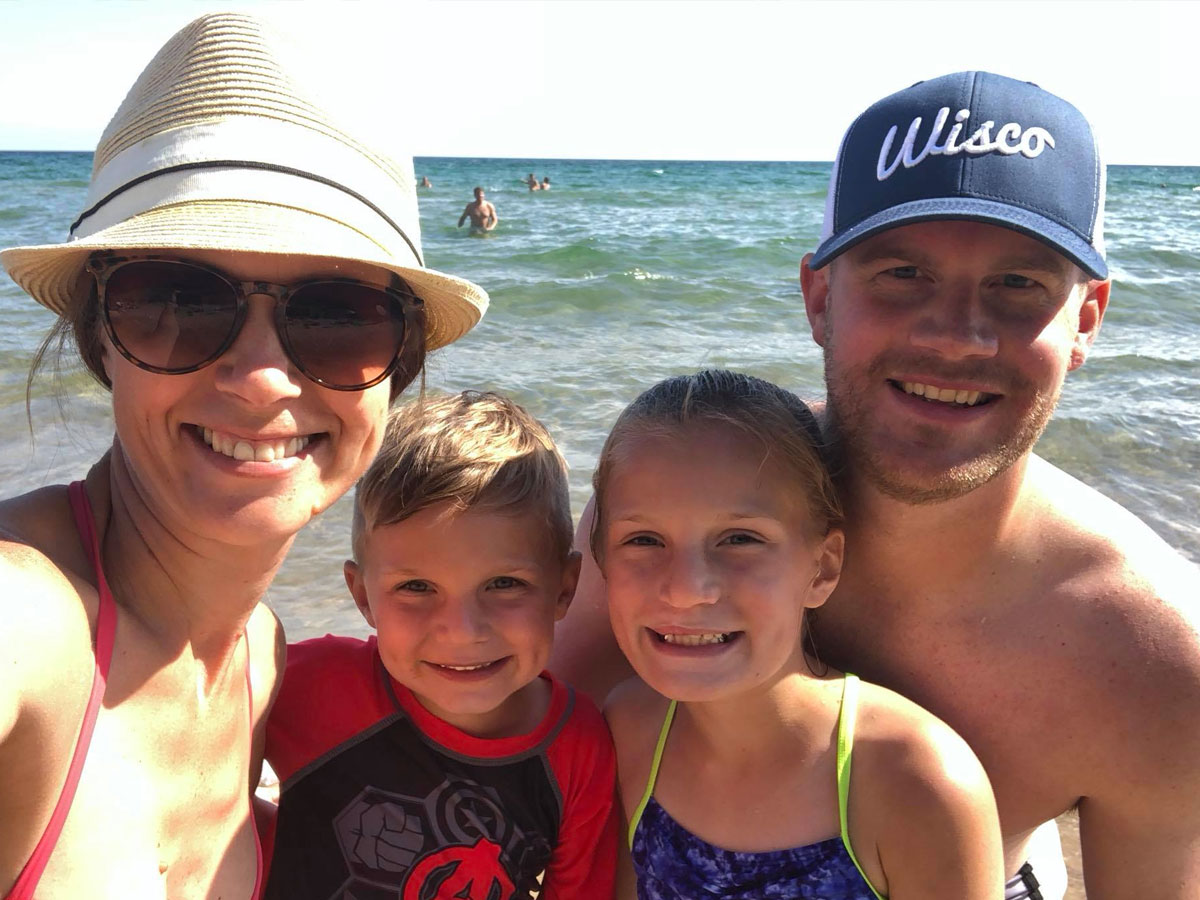 Whitefish Dunes State Park – Sturgeon Bay, WI
Whitefish Dunes State Park is a must stop when you're in Door County. The park features a number of hiking trails, a few miles of rocky shore and it's signature sand dunes on rugged Lake Michigan. Don't let the waves scare you, the beach has a shallow slope that lets you walk more than 100 yards from shore before you need to swim. It's a great place to hang out at the beach for the day or do some exploring. We also recommend dropping in a kayak and paddling over to Cave Point County Park to check out the underwater caves.
Special Mentions
It's super hard to narrow our list of spots down to simply ten. Each year we have our must-stops, trying something new and simply leaving a day for random adventures (Wild-Card Day). We love the Beach in Sister Bay, Europe Bay Beach for less of a crowd, Pizza at Wild Tomato, Movies at the Skyway Drive-In Theatre, The Beach People Shop, Peddle cars at Seaquist Orchard, Picking cherry's and sipping wine at Lautenbach's Orchard Country Winery & Market, One Barrel Brewing's outdoor space, Door County Brewing's IPA's, Shopping in Fish Creek, and simply driving around.