Each year our family is fortunate to spend a week in Door County. It's one of those places that we look forward to going all year long. Time slows down, nature is all around you and there are plenty of things to do. Even though we've been there several times, we make it a goal to do something new each year. Here are some of the things we explored during our Summer 2021 Trip.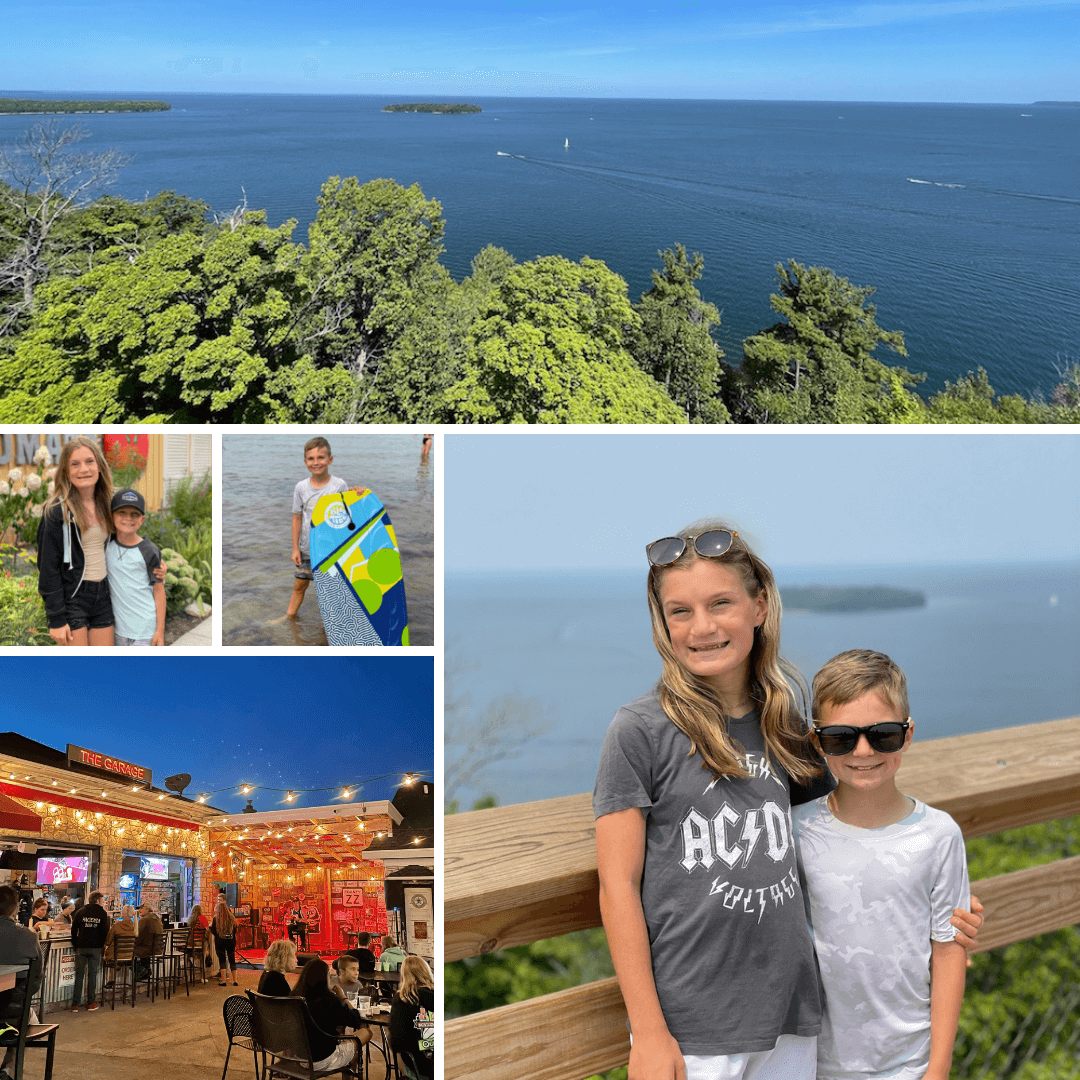 Day 1
On a clear day Eagle Tower, located inside Peninsula State Park, can provide stunning views of Michigan's Upper Peninsula over 14 miles away! Unfortunately the old tower was shut down in 2015 due to safety concerns. After 6 long years, the highly anticipated tower reopened – so it was obviously our first stop! This tower is 60 ft high, winds through the tree tops and is unlike any other in the state – in the fact that it's handicap accessible, allowing everyone to take in the beautiful scenery. 
We then spent the day swimming at Nicolet Beach. The water temps were nice and the beach wasn't overly crowded. Our son Will spent most of his time mastering his new skimboard and was lucky enough to get some help from an older boy who knew just what to do!
We finished our night at two of our favorite spots in Sister Bay – dinner at Wild Tomato and drinks & dancing at Husby's Garage.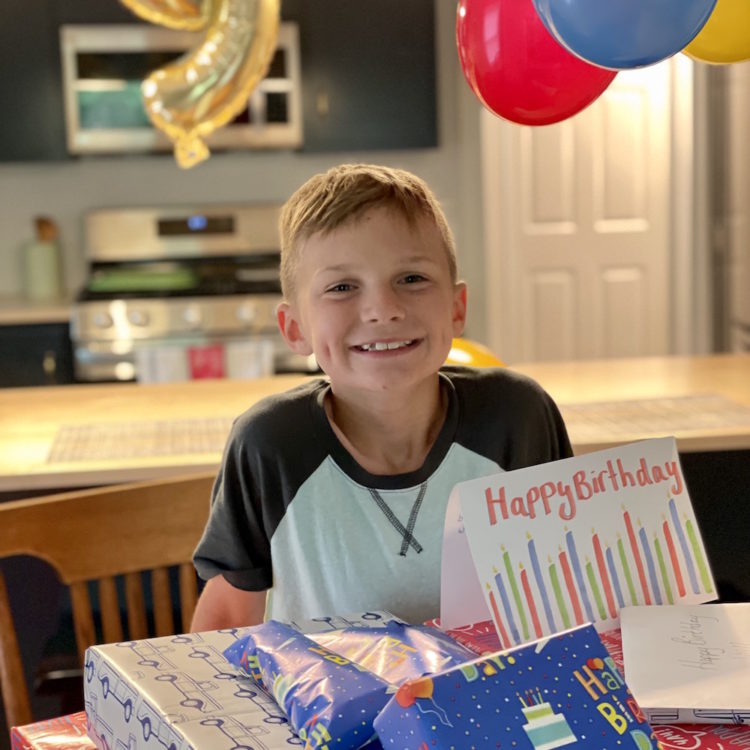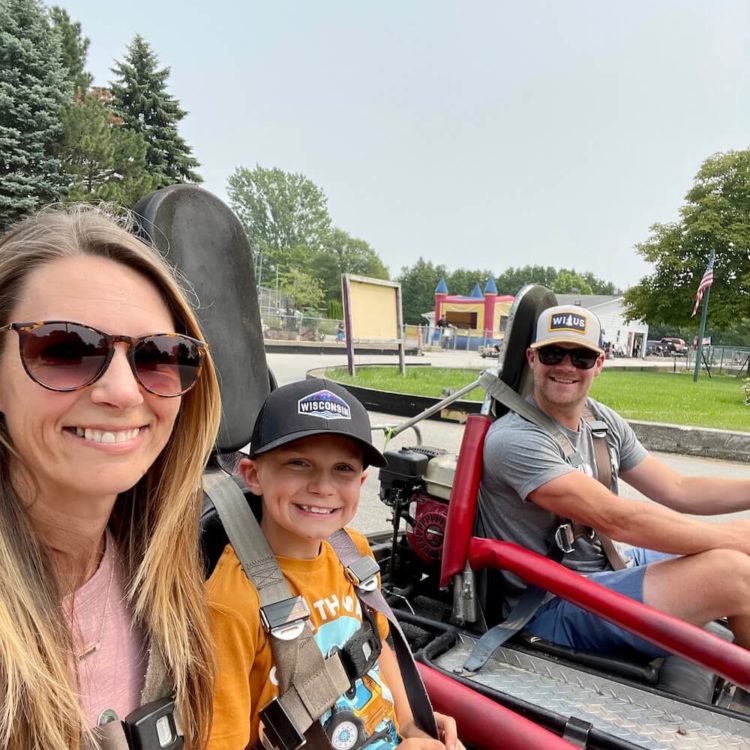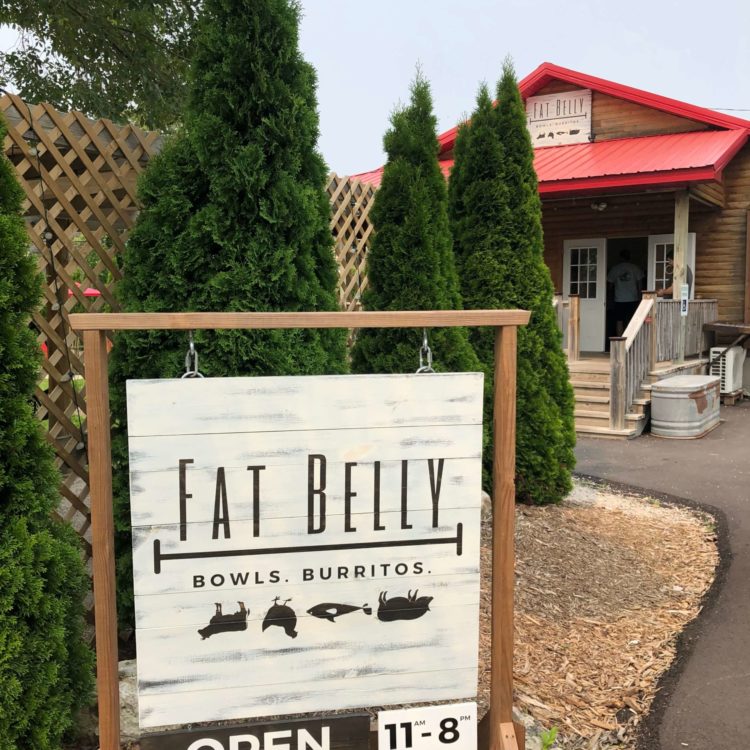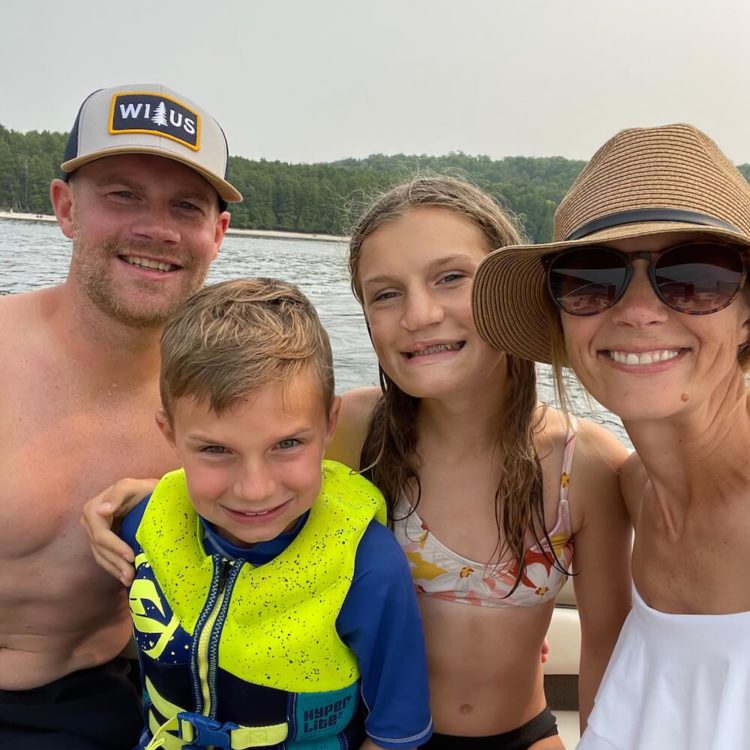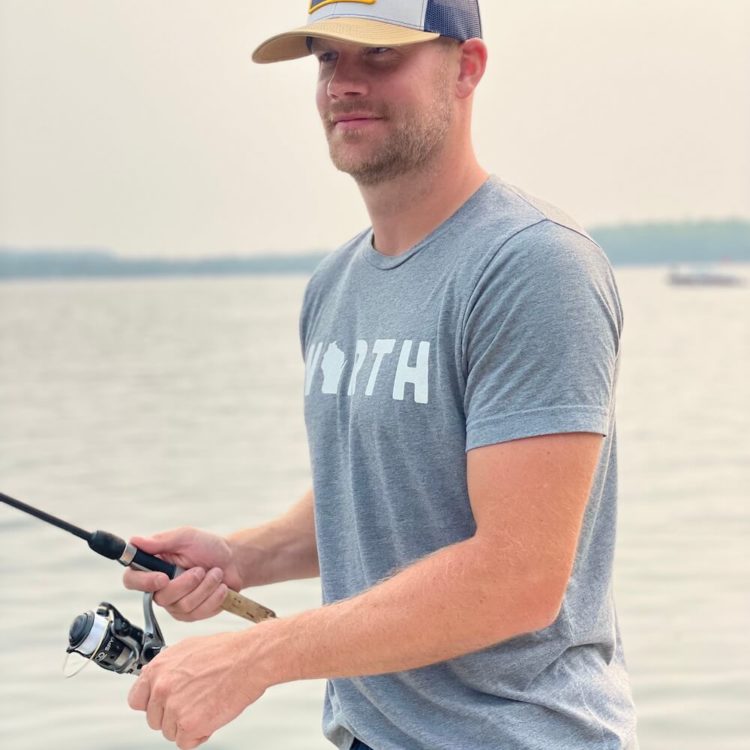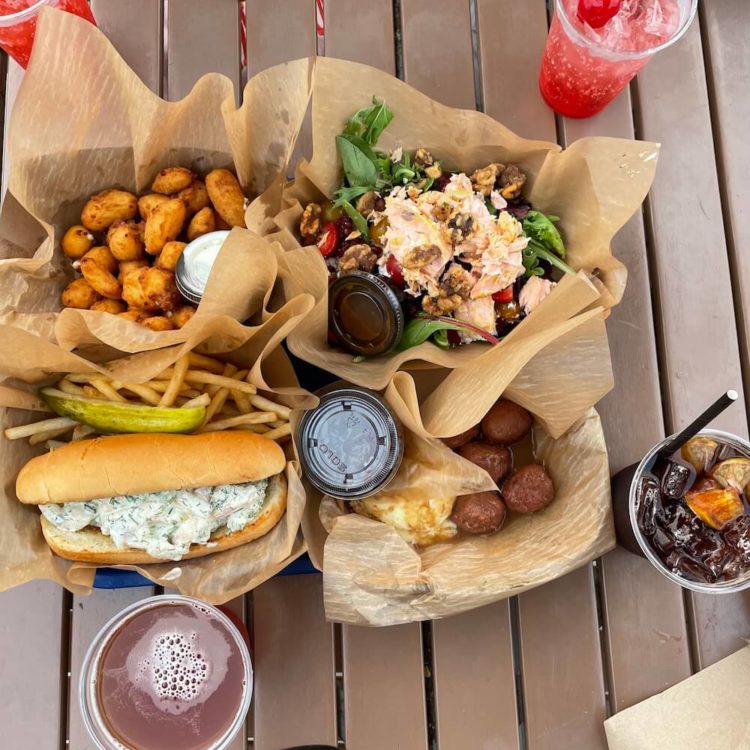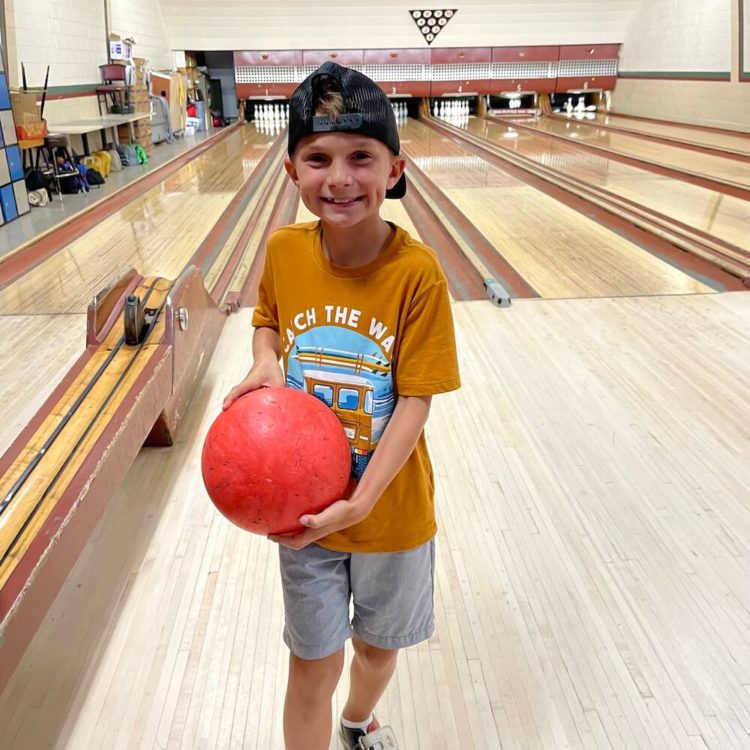 Day 2
Day 2 just so happened to fall on Will's Birthday and the tradition states that he gets to choose the entire day's activities. He crafted a day any 9-year-old could dream of – complete with mini-golf, go karts, a boat ride, fishing, bean bags and bowling. It's clear he really knows how to live it up!
We love stumbling upon new things to enjoy, so when we saw Fat Belly was located right by the go karts our lunch was decided. This hidden gem is a must! The food was amazing and the atmosphere was fun & relaxed.
We never caught any fish while on our boat ride, but we were able to visit one of our favorite spots that sadly no longer exists. We boated over to Pebble Beach and swam where Fred & Fuzzy's used to be located. It was a bittersweet moment, we will definitely miss that place – mostly their sunsets and Cherry Margarita's.
We played our millionth game of bean bags and enjoyed dinner at Stabbur before heading to Sister Bay Bowl for an old fashioned game of bowling. We love that this place has stayed true to it's roots and even requires you to hand score your game!
The rich history of Door County has been preserved and on display all around the peninsula. It seems like there is never enough time to check out everything and something new every year to explore.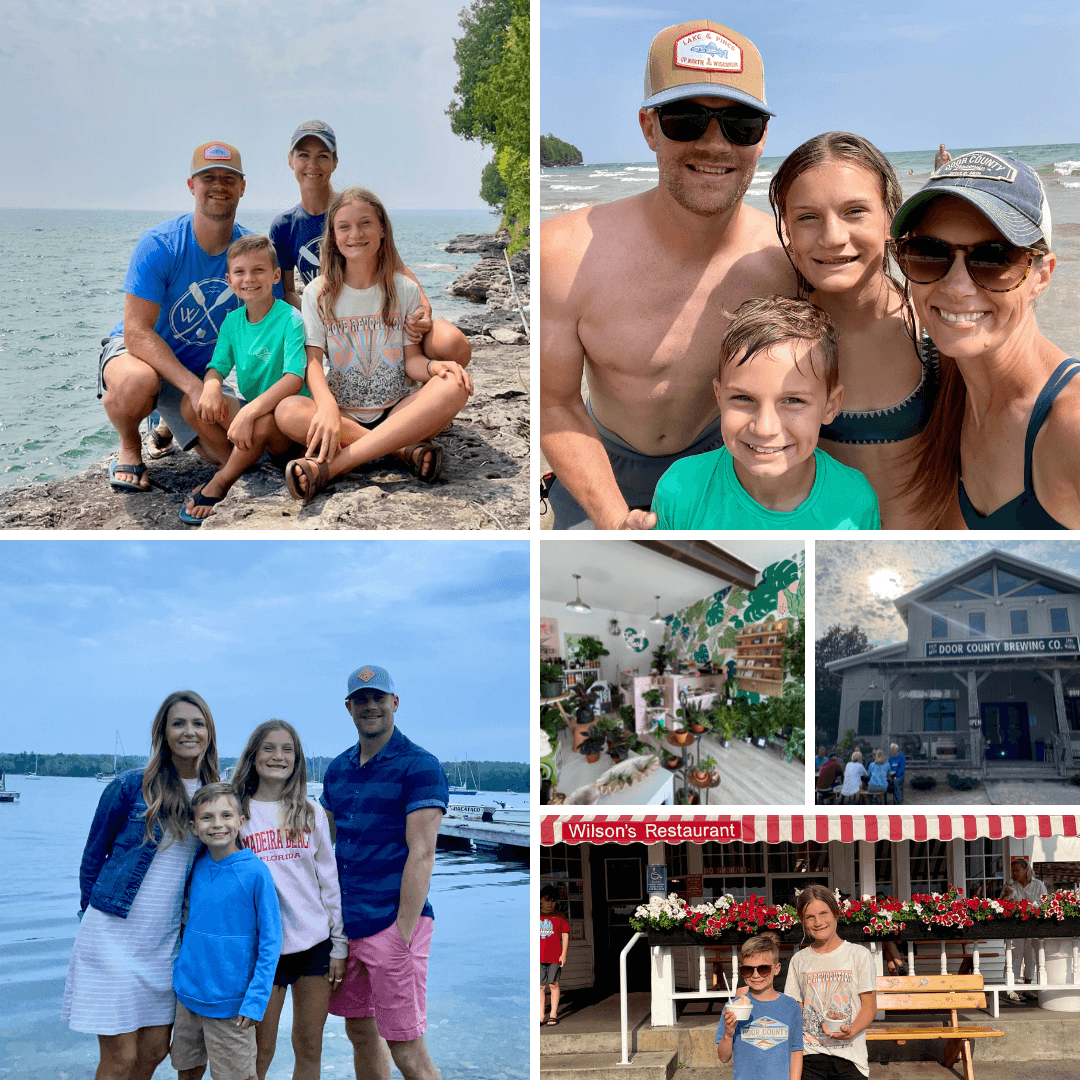 Day 3
After a day full of activities, we were ready to get back to nature. We headed to Cave Point to take in the sights, jump from the rocks and swim a bit. The water levels were down this year, which overall was much appreciated – however, it did mean that you had to be more careful when jumping.
After we headed to Whitefish Dunes to swim in the bigger waves that Lake Michigan offers. Now that our kids are bigger, they prefer playing in the rougher waters. The first beach access was closed so it did require a bit of a walk to get to the second beach, but it was definitely worth it.
After the beach we headed to Baileys Harbor for a well deserved beer at Door County Brewing. While there we stumbled upon an adorable new shop called Good Leaf, that was full of really fun plants and greenery. We grabbed some ice cream at Wilson's and dinner at Loft in Fish Creek.
Day 4
There's no better way to start the day than with a great breakfast from Al Johnson's. We highly recommend adding your name to the list and grabbing a coffee from Skip Stone while you wait. After we admired the goats on the roof, we headed to The Farm to see even more adorable animals. Our kids love this spot and would spend all day there if we let them.
Once the kid stops were off the list, we headed to Egg Harbor to One Barrel Brewing for some beverages. As any good parents would do, we exposed our kids to gambling for the first time and bought some pull tabs. Apparently their luck was strong because they ended up winning the grand prize and were over the moon.
We then made our way to Fish Creek and had dinner at Barringers. I love the Lobster Roll and the patio is a great atmosphere to enjoy your meal. I know you'll be shocked, but we then headed back to Stabbur in Sister Bay and enjoyed live music outside and watched the sunset.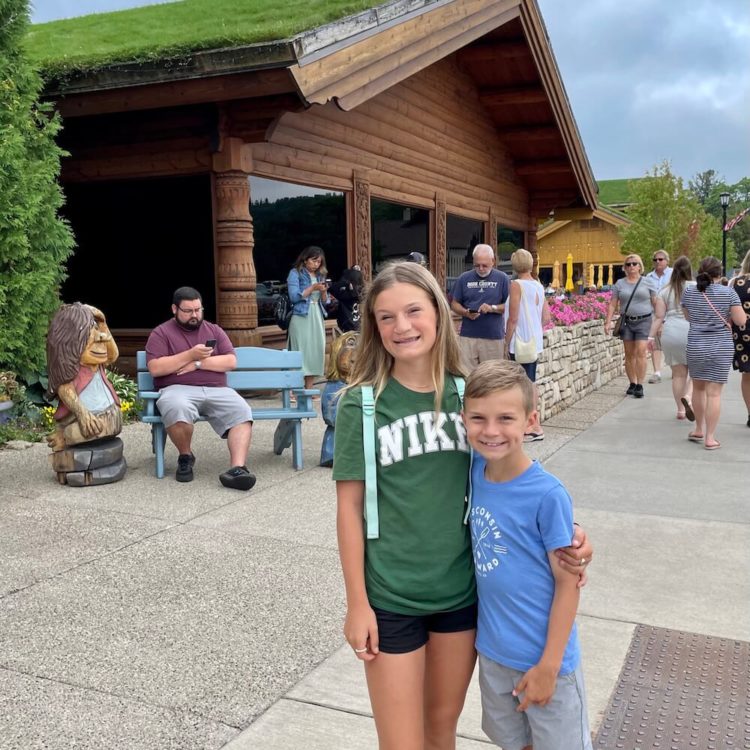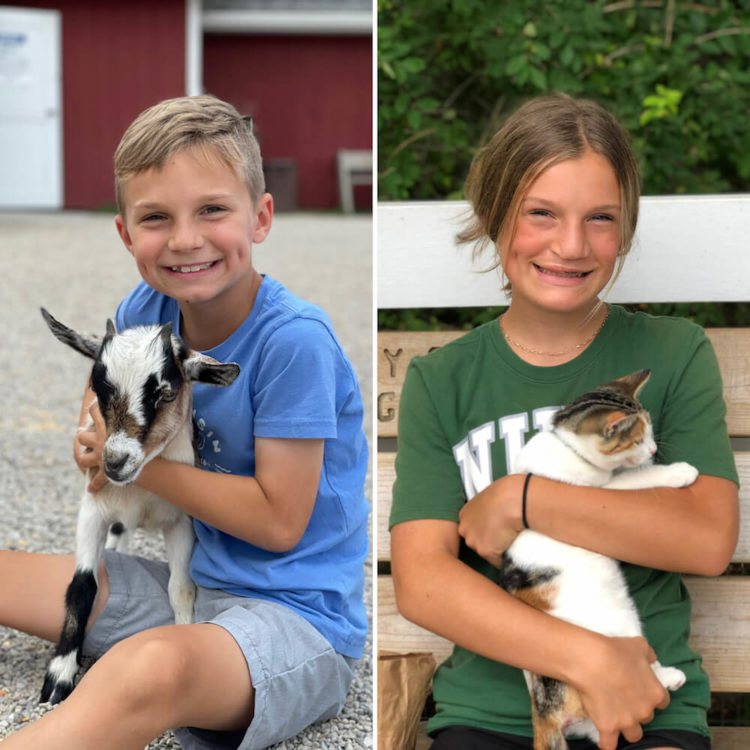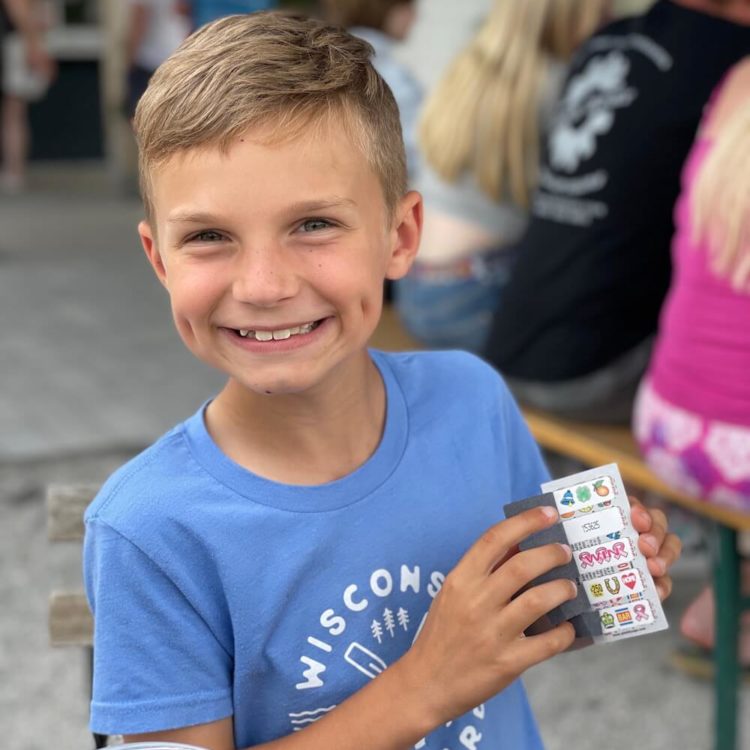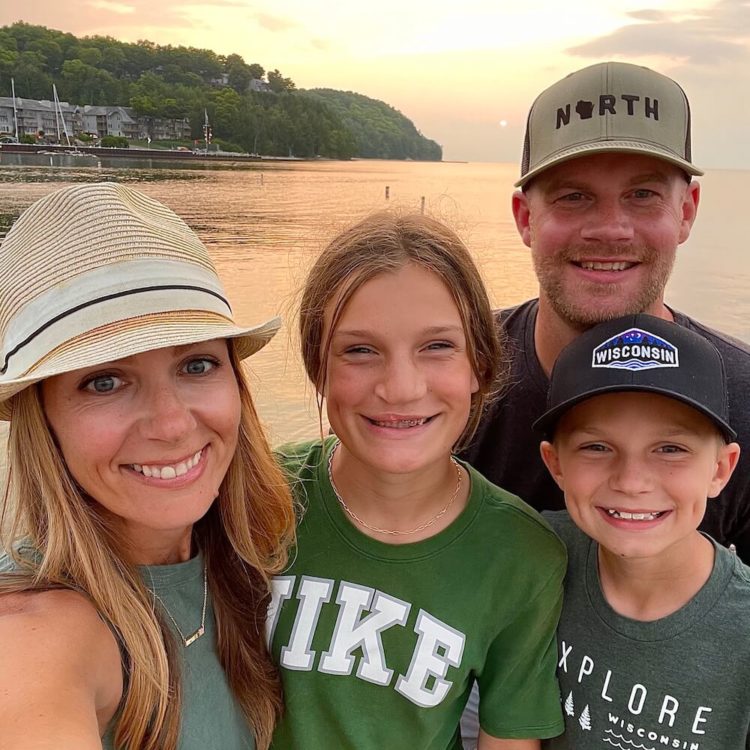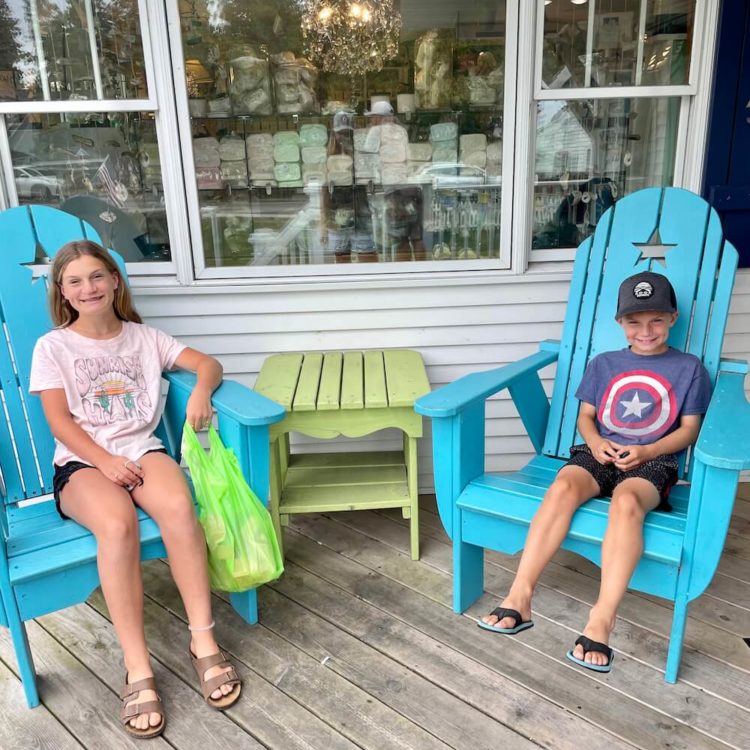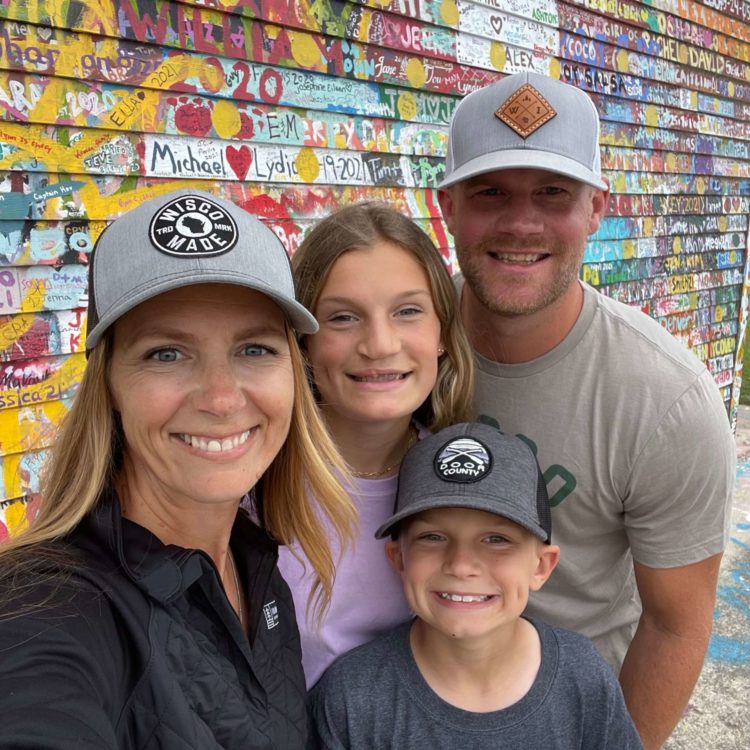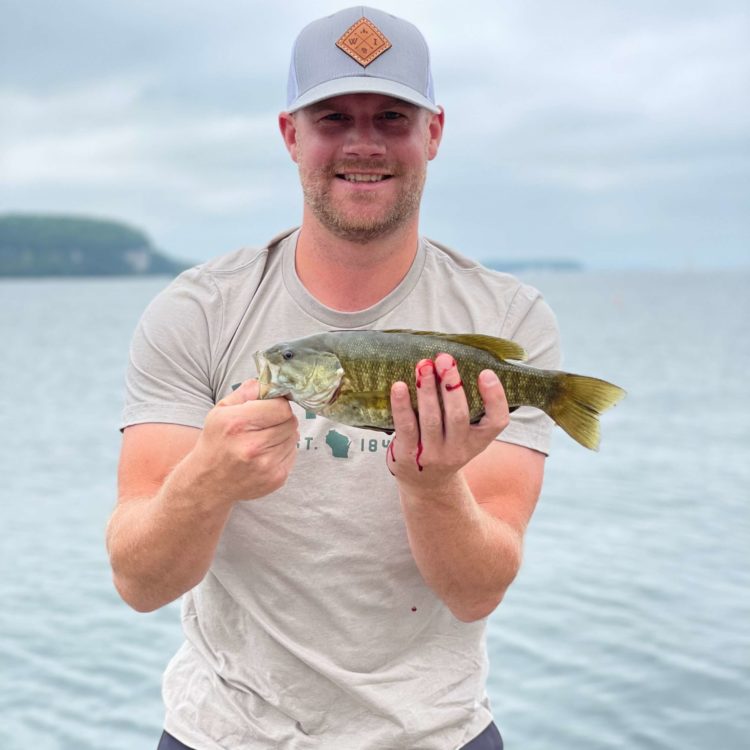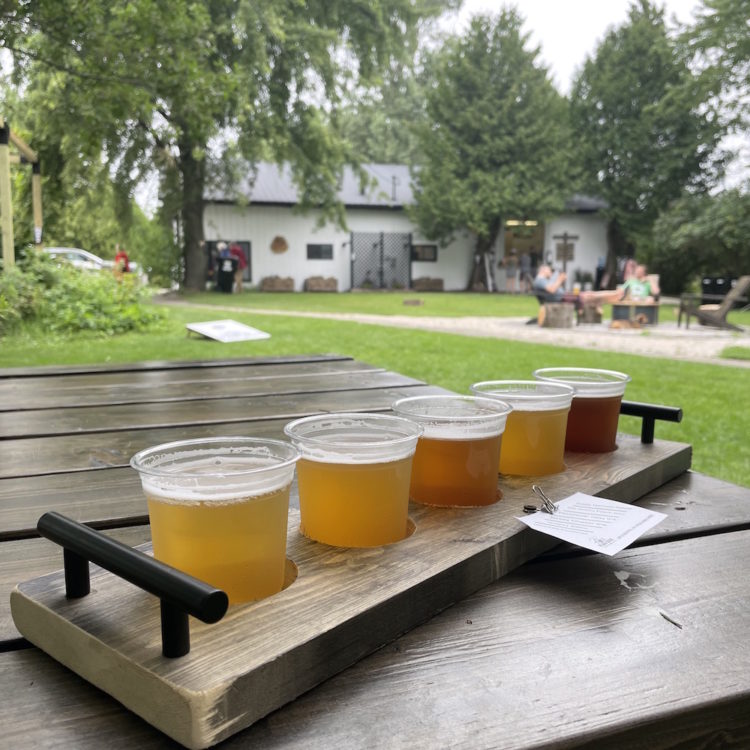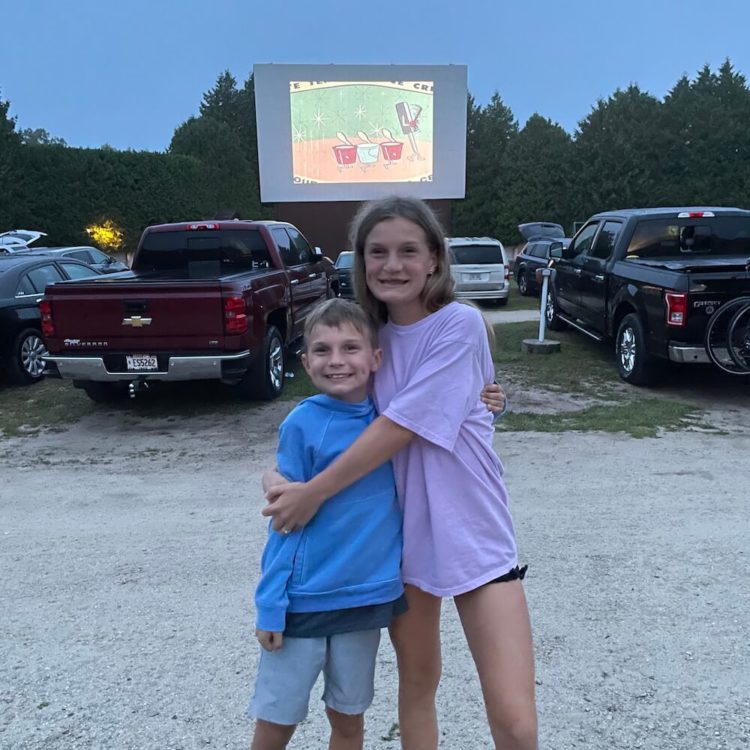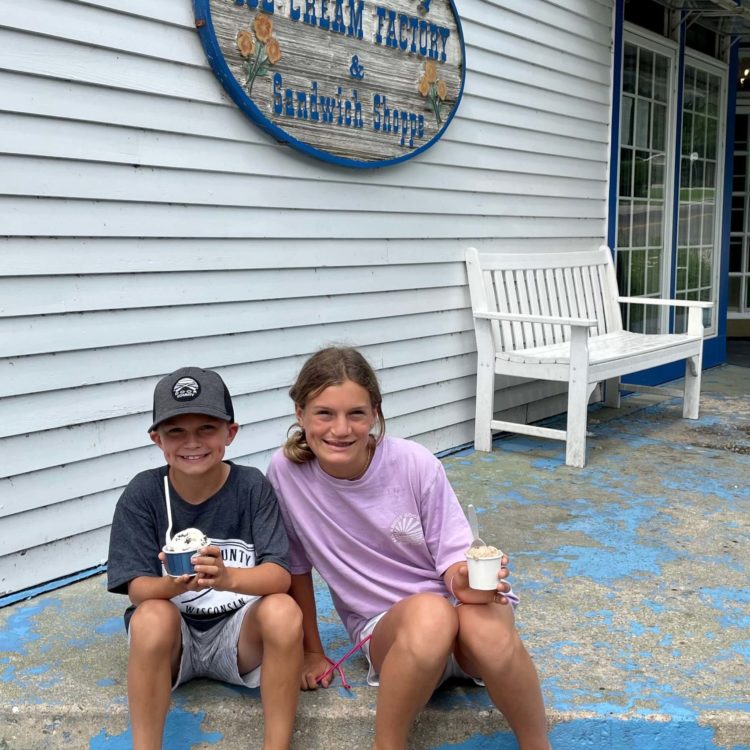 Day 5 & 6
The last few days are always about checking things off the list to make sure everyone is happy. Our daughter Ella loves to visit all the shops throughout Door County, so we started at her favorite spot – Beach People. We then headed Fish Creek to check out the Bayside Shops. We stumbled on three new places worth mentioning; Bayside Coffee, Jack & Joie and Good Times Great Lakes. From there we headed to Anderson Dock to add our names and catch some fish.
One of the new places we wanted to visit was Peach Barn Farmhouse & Brewery. It's right in Sister Bay and the owners have done such a great job in creating a space for the whole family. We highly recommend checking it out!
Since there aren't many around anymore, the kids insist on visiting the Skyway Drive-in Movie Theater. We saw Jungle Cruise and it was surprisingly pretty good. If anyone has any tips on how to watch a movie from inside the car, without getting eating alive by mosquitos and the windows not fogging up – we would LOVE them.
After a full trip, on our last day we visited Door County Ice Cream Factory & Sandwich Shoppe for a quick lunch and a sweet treat before we hit the road to head home!